Green Hill Cemetery
1202 18th Street ♦ Bedford, Indiana ♦ (812) 275-5110




Walking Tour of Green Hill Cemetery

Stop #28 - Tom Barton (1886-1937)

Thomas Almon Barton was an avid golfer, whose unique monument shows his 1930's clothing, bow tie, cuffed pants, hat, golf clubs, and bag.

Even though the Barton monument is granite, it was crafted locally by Bedford stone carvers.

Barton was born in Belfast, Maine. He is buried next to his wife, Maude Duncan (1889-1972).

Thomas was the cheif estimator for Indiana Limestone Corporation. He died in the clubhouse of the Upper Hill Golf Course in French Lick, Indiana, experiencing chest pains after finishing 18 holes.





GO BACK to homepage.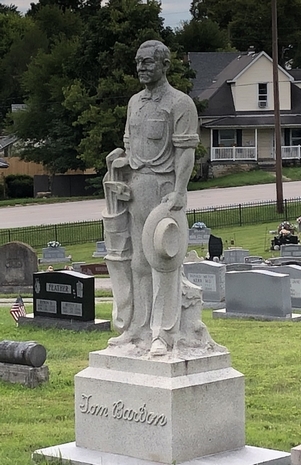 view map location